As the saying goes, "Necessity is the mother of all invention." This proved to be true in the case of SharpenAir™. Chad Elliott, an accomplished airbrush artist and entrepreneur, was frustrated with delayed and stalled projects due to bent airbrush needles; "When you are down to your last needle towards the end of a project in the late hours of the night that is not when you want to be stuck with a ruined airbrush needle." Chad explains that often time's artists rely on spare needles and usually have to order replacements online. The specific types of needles many airbrush artists prefer to use cannot be found locally in stores in many areas of the Country. This issue piqued his interest in finding a tool he could readily purchase to get him out of a jam during projects. He wanted something that had the ability to easily and efficiently repair and straighten the needle without having to wait several days for more needles to come in the mail, not to mention save money and keep the project on schedule. Surprisingly to him, he was unable to find such a product on the market. Sure there were home remedies and DIY methods but none seemed to be consistent or fool-proof. During his free time he began to sketch out rough drafts and designs of a simple, hand-held tool that could repair bent needles with precision and consistency. Once he had a solid grasp on how the tool should work, he reached out to professional engineers who were able to help him construct the first prototype.
Chad knew that SharpenAir™ had to be a universal tool that would work with multiple size fluid needles. The angle at which the needle was sharpened as well as the length of the cone were all considered during the design phase. After several meetings and auto-cad files later, the final design was approved. Once production began it was important for him and his team to use high-quality materials for durability and function. The internal components of the sharpener include four custom molded diamond grit plated sanding stones of varying grits. These stones had to be specifically designed for SharpenAir™ in order to create a tool that could be compact and easy to use. In addition to the sanding stones there is a stainless steel base plate that keeps the needle in place while being sharpened. The outside casing of SharpenAir™ is formed with an injected mold using textured plastic which reduces fingerprints and smudges while increasing durability. The design itself features four runners, each at a different angle. This allows the tool to do the work for you by seating the needle in the correct position and for sharpening without fear of disturbing the factory angle of your needle.
The first and original SharpenAir™ has been in Chad's kit for over a year now and is the same one he still uses. It has been a lifesaver on more than one occasion.
---
Chad with his project at the Coast Rendezvous 2016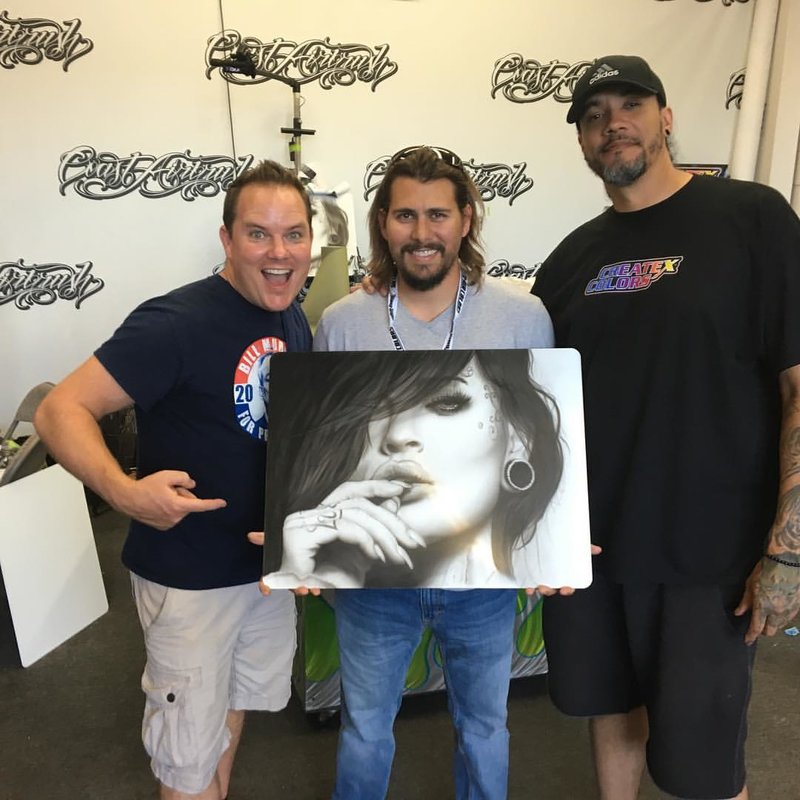 Discussing SharpenAir™ at the Airbrush Action Getaway 2016